Since it was International Women's Day last week, I decided to do a slightly different post today.


This book was brilliant and I highly recommend it to all you classic-loving folk out there. However, this isn't really about this book at all, but rather how it applies to all books in general. And really, do we need heroines? And should we be turning them into role models?

Part of my unease with role models, whether that be literature, films or popular culture, is that we are setting a standard for our children to turn themselves into rather than celebrating individuality. And with fiction, it doesn't help that these people, and in for my argument, women, are not real. Young girls need to see women who are strong, powerful and not afraid to voice their thoughts (Emma Watson being the perfect example of a great role model). But, if you give them perfection in the form of a role model, whom do they turn to for how to continue when they have made a mistake?

Gender roles are changing rapidly in Western society. The backlash of female empowerment which has led to the rise of 'Lad Culture,' to the uprising of the fourth wave of Feminism. Nobody knows what is expected, but we want change.

And thankfully, we have women who are paving the way in feminism and how our voices should be heard.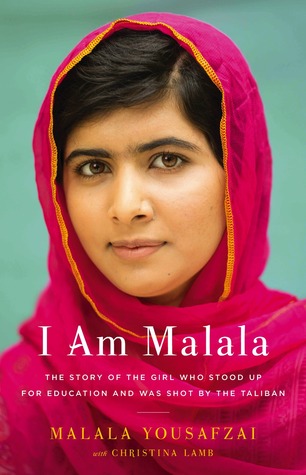 I Am Malala: The Girl Who Stood Up for Education and Was Shot by the Taliban

by Malala Yousafza
I come from a country that was created at midnight. When I almost died it was just after midday.
When the Taliban took control of the Swat Valley in Pakistan, one girl spoke out. Malala Yousafzai refused to be silenced and fought for her right to an education.
On Tuesday, October 9, 2012, when she was fifteen, she almost paid the ultimate price. She was shot in the head at point-blank range while riding the bus home from school, and few expected her to survive.
Instead, Malala's miraculous recovery has taken her on an extraordinary journey from a remote valley in northern Pakistan to the halls of the United Nations in New York. At sixteen, she has become a global symbol of peaceful protest and the youngest-ever Nobel Peace Prize laureate.
I Am Malala is the remarkable tale of a family uprooted by global terrorism, of the fight for girls' education, of a father who, himself a school owner, championed and encouraged his daughter to write and attend school, and of brave parents who have a fierce love for their daughter in a society that prizes sons.
I Know Why the Caged Bird Sings

by Maya Angelou
Sent by their mother to live with their devout, self-sufficient grandmother in a small Southern town, Maya and her brother, Bailey, endure the ache of abandonment and the prejudice of the local "powhitetrash." At eight years old and back at her mother's side in St. Louis, Maya is attacked by a man many times her age—and has to live with the consequences for a lifetime. Years later, in San Francisco, Maya learns that love for herself, the kindness of others, her own strong spirit, and the ideas of great authors ("I met and fell in love with William Shakespeare") will allow her to be free instead of imprisoned.
Poetic and powerful, I Know Why the Caged Bird Sings will touch hearts and change minds for as long as people read.
How to Be a Woman

by Caitlin Moran
Though they have the vote and the Pill and haven't been burned as witches since 1727, life isn't exactly a stroll down the catwalk for modern women. They are beset by uncertainties and questions: Why are they supposed to get Brazilians? Why do bras hurt? Why the incessant talk about babies? And do men secretly hate them?
Caitlin Moran interweaves provocative observations on women's lives with laugh-out-loud funny scenes from her own, from the riot of adolescence to her development as a writer, wife, and mother. With rapier wit, Moran slices right to the truth—whether it's about the workplace, strip clubs, love, fat, abortion, popular entertainment, or children—to jump-start a new conversation about feminism. With humor, insight, and verve, How To Be a Woman lays bare the reasons female rights and empowerment are essential issues not only for women today but also for society itself.
We Should All Be Feminists

by Chimamanda Ngozi Adichie
What does "feminism" mean today? That is the question at the heart of We Should All Be Feminists, a personal, eloquently-argued essay—adapted from her much-viewed Tedx talk of the same name—by Chimamanda Ngozi Adichie, the award-winning author of Americanah and Half of a Yellow Sun. With humor and levity, here Adichie offers readers a unique definition of feminism for the twenty-first century—one rooted in inclusion and awareness. She shines a light not only on blatant discrimination, but also the more insidious, institutional behaviors that marginalize women around the world, in order to help readers of all walks of life better understand the often masked realities of sexual politics. Throughout, she draws extensively on her own experiences—in the U.S., in her native Nigeria, and abroad—offering an artfully nuanced explanation of why the gender divide is harmful for women and men, alike. Argued in the same observant, witty and clever prose that has made Adichie a bestselling novelist, here is one remarkable author's exploration of what it means to be a woman today—and an of-the-moment rallying cry for why we should all be feminists.
They are just a few of my all time favourite feminist icons. Comment below and let us know who yours are!