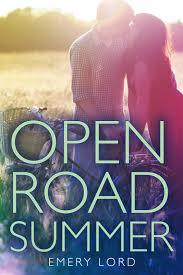 Open Road Summer by Emery Lord
Publisher: Walker Childrens
Release date: April 15th 2014
Genre: Young Adult contemporary
Source: Bought
After breaking up with her bad-news boyfriend, Reagan O'Neill is ready to leave her rebellious ways behind. . . and her best friend, country superstar Lilah Montgomery, is nursing a broken heart of her own. Fortunately, Lilah's 24-city tour is about to kick off, offering a perfect opportunity for a girls-only summer of break-up ballads and healing hearts. But when Matt Finch joins the tour as its opening act, his boy-next-door charm proves difficult for Reagan to resist, despite her vow to live a drama-free existence. This summer, Reagan and Lilah will navigate the ups and downs of fame and friendship as they come to see that giving your heart to the right person is always a risk worth taking.
I had a gut feeling that this book would be great, and I'm so happy it turned out to be true! The setting could have been really cheesy, but it totally works. A summer on a tour bus reads like a road trip on... some drug that makes everything more intense. (Sorry. I should work on my metaphors.) I absolutely loved getting insights into the world of fame and music - Open Road Summer has the drama and the glamour from those books-about-rich-people series that I loved in middle school, but it also has the depth and insightfulness I love today. I just loved everything about this set-up!
Asides from this original set-up, the characters are what makes this book so special. I know Reagan is not the kind of narrator that will resonate with every reader, but that's exactly why I loved her. She's not your standard contemporary YA girl that's expected to be quiet and innocent; she has a history of messing up and getting in trouble, and she's tough as nails. She's put walls up around herself, which is why I loved being inside her head and getting to see behind those walls. Her issues are real, and I loved the character growth of working through them.
The only problem I had with Reagan is her girl-on-girl hating. She constantly talks about how she's not like other girls, and she talks shit about every female character other than herself and Dee. And of course most of this criticism is focused on physical appearance. The slut-shaming and criticism of pretty much every outfit mentioned is not cool. I get that this is part of Reagan's strong personality and the result of her abandonment issues and whatnot, so it didn't bother me quite as much as it usually would. And I also know that hating on other girls is very common for girls who defy gender stereotypes. But no matter what the circumstances, this sort of attitude perpetuates harmful ideas about femininity and still conveys problematic message.
One of my favorite elements of Open Road Summer was Reagan's friendship with Dee. Despite her issues with most other girls, Reagan's relationship with Dee is a great example of strong female friendships. Their friendship is long-lasting and supportive, but it's also not perfect - I loved reading about the ups and downs in their relationship, but seeing how they're always there for each other when it really counts. The element of fame provides a unique spin on the theme of friendship, and it was fascinating to see how these different lifestyles affect their relationship but never break the strong bond these two have.
Then there's the romance with Matt. Their initial attraction is strong, and they have great chemistry. Towards the middle, I had some issues with the way their relationship develops - because of the walls Reagan has built around herself, she rejects Matt again and again, but he continues to pursue her. Since we are inside Reagan's head and see that she's only rejecting him because of her own issues, it seems like this is okay. But really, pushing someone again and again after they have said no multiple times is anything but okay. The way that Matt says he won't give up until he gets Reagan is creepy and entitled. Within the context of Reagan's emotional barriers, this makes sense, but again, it still conveys a problematic message. Anyways, once Reagan "gives in" to Matt (blegh), I really liked their relationship - I loved reading about the two of them opening up, and their chemistry is great.
In case I didn't make this clear - I absolutely loved
Open Road Summer
. With a unique set-up, a strong main character, and a great theme of friendship,
Open Road Summer
is one of my favorite summer reads. I loved Emery Lord's engaging writing, and I can't wait to see what she comes up with next!